Georgetown University students, faculty and staff are invited to
The 2019 Hillary Rodham Clinton Awards
for Advancing Women in Peace and Security
Celebrating women's leadership in promoting human rights and peace—
from the top ranks of the United Nations to the frontlines of gang violence in Central America.
featuring remarks by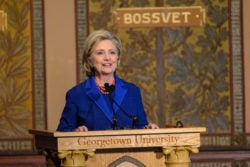 The Hon. Hillary Rodham Clinton
67th United States Secretary of State
Honorary Founding Chair of the Georgetown Institute for Women, Peace and Security
and a panel conversation with
the 2019 Hillary Rodham Clinton Awardees: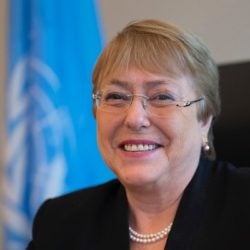 H.E. Michelle Bachelet
United Nations High Commissioner for Human Rights
33rd and 35th President of the Republic of Chile
Rosa Anaya
Coordinator for Catholic Relief Services (El Salvador)
Virginia Martes Velásquez
Founder of Movimiento de Mujeres de la Colonia López Arellano (Honduras)
Friday, September 27
11:00 a.m. to 12:30 p.m.
Gaston Hall
Important notes on the event:
Valid, current Georgetown University ID required for entry
Entry is free and on a first-come, first-served basis.
Ticket distribution for the Georgetown community will be on the 2nd Floor of Healy Hall.
Media requests should be directed to Sarah Rutherford – sdr56@georgetown.edu