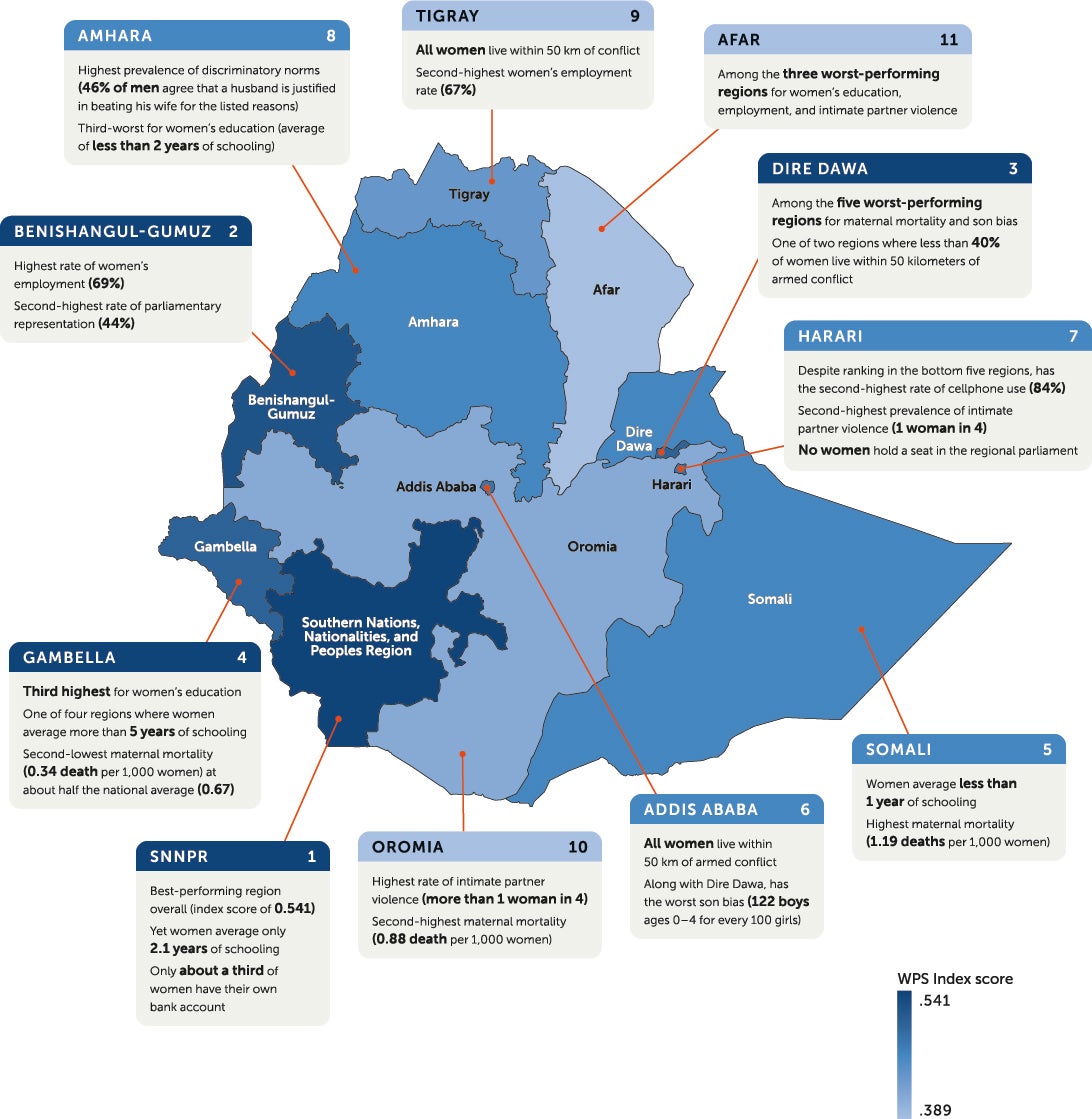 Ethiopia's long history of conflict has disproportionately harmed women by restrict­ing their access to education, creating livelihood barriers, and amplifying risks of gender-based violence. As of 2022, two-thirds of women in Ethiopia lived within 50 kilometers of armed conflict. In Tigray and Addis Ababa, every woman was exposed to armed conflict. While the subnational index does not fully account for the impacts of the recent civil war, it nonetheless identifies areas within the country where women's inclusion, justice, and security are most under threat and where more investment in improving women's status is urgently needed.
Ethiopia ranks 146 on the WPS overall, though scores vary greatly by province. The Southern Nations, Nationalities, and Peoples Region (SNNPR) is the best-performing region in the country, with a score of .541, and Afar was the worst performing, with a score of .389. SNNPR performs well on indicators related to employment and parliamentary representation, as well as those within the secu­rity dimension. In SNNPR, 52 percent of women are employed, and as of 2019, women made up 41 percent of SNNPR's members of the House of People's Repre­sentatives. Despite its high overall score, SNNPR performs poorly on indicators of education and financial inclusion.
Afar's low score reflects its poor performance on several indicators: on aver­age, women have not completed even a year of school, only about one woman in four has access to her own bank account, and more than four women in five live within 50 kilometers of armed conflict. Low school completion is attributable largely to early pregnancy and to girls' disproportionate responsibility for domestic care duties. One girl in four ages 15–19 in Afar becomes pregnant, and half of girls who marry while in school dropout. Exacerbating the situation is women's proximity to conflict. In 2022, 84 percent of women lived within 50 kilometers of at least one conflict event. Subnational data for Ethiopia are available to download the link above and further analysis is available in chapter 3 of the WPS Index report.