Women are still largely shut out of negotiations that seek to end conflicts, as well as decisions that shape post conflict recovery. More than half of all peace agreements fail in the first five years after adoption. Yet we know that women are critical to achieving sustainable peace. We saw it in Northern Ireland, Liberia, Colombia, and other places of conflict around the world. The Institute was created in order to build the evidence-based case for a focus on women, peace, and security.
Event Recap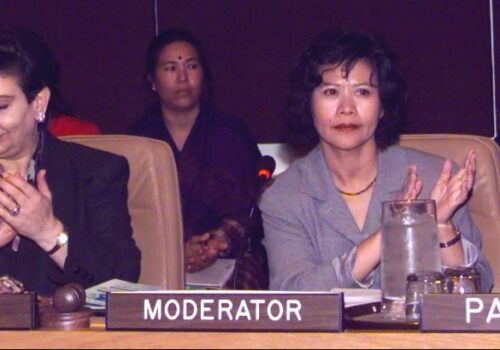 Perspectives from Women Peace Negotiators
The Georgetown Institute for Women, Peace and Security commemorated the 20th anniversary of UNSCR 1325 and a new season of the Seeking Peace podcast in conversation with women peace negotiators from Colombia, the Philippines, and Northern Ireland.  Dr. Monica McWilliams, Signatory to the Good Friday Agreement in Northern Ireland and Co-founder of the Northern Ireland…
Peace in Colombia: How Women Shaped the Deal
Women played an important role in securing the Colombian peace agreement, which ended the longest armed conflict in the Western Hemisphere. The video was played at the 2017 Hillary Rodham Clinton awards ceremony, hosted by the Georgetown Institute for Women, Peace and Security. Secretary Clinton bestowed awards on four Colombians who helped to ensure the successful outcome of Colombian peace efforts: Humberto De la Calle, Maria Paulina Riveros, Elena Ambrosi and Jineth Bedoya. The video builds on a research study that was conducted by the Georgetown Institute for Women, Peace and Security.