Georgetown Ambassadors for Women, Peace and Security share a passion for advancing women globally. They are accomplished, diverse women, and while many have a connection to Georgetown University, many do not. Together, they form a powerful community of women who are immersed in the work of the Institute and do their part to lift up women. 
Georgetown Ambassadors give an annual, tax-deductible gift to the Georgetown Institute for Women, Peace and Security.
Meet the current Georgetown Ambassadors for Women, Peace and Security and download the Georgetown Ambassadors Brochure to learn more.
PARTICIPATE
Participate in intimate conversations with global thought leaders on advancing women's rights and roles. Georgetown Ambassadors convene throughout the year to examine the global state of women with government leaders, scholars, and courageous women building peace.
Recent examples include conversations with:
Her Royal Highness Sophie, Countess of Wessex on violence against women;
Former President of Kosovo Atifete Jahjaga on women's experiences during war;
NPR's Nina Totenberg on Supreme Court decisions.
EXPERIENCE
Experience curated travel to places where women are on the frontlines of change and actively solving problems faced by their communities and countries.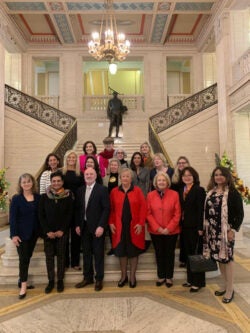 In 2022, Georgetown Ambassadors traveled to Belfast and Dublin guided by the indomitable Monica McWilliams, a key negotiator of the Good Friday Agreement, and learned how "The Troubles" continue to affect daily life. They also met with Mary Robinson, Former President of Ireland, and witnessed how networks of women that were forged through conflict have endured through decades, and continue to play a role in keeping the peace. 
Georgetown Ambassadors also join regional gatherings and global events organized by the Institute, from research briefings at NATO  to annual Hillary Rodham Clinton awards.
AMPLIFY
Amplify the important work of the Georgetown Institute of Women, Peace and Security.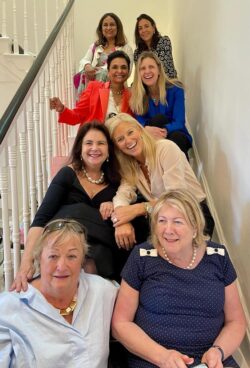 The Georgetown Institute for Women, Peace, and Security is the premiere research and teaching center focused on women's roles in building international security and growing economies worldwide. 
At a time when women's rights and roles are being challenged from Ukraine to the United States, this Institute is more important than ever. The Georgetown Ambassadors for Women, Peace and Security are leaders from various walks of life who share a goal of accelerating women's representation and participation from the peace table to the board room. As Ambassadors, we come together to support the Institute in its mission and charter.
Georgetown Ambassadors join by invitation and recommendation. To learn more about becoming a Georgetown Ambassador, contact Sarah Rutherford at sarah.rutherford@georgetown.edu.