Climate Change & Disaster Risk Reduction
Climate change is a global challenge that burdens all of humanity, but not equally. The world's poor, the majority of whom are women, are encumbered disproportionately. The distinct impacts of climate change on men and women are exacerbated in settings that are also affected by violent conflict, political instability, and economic strife. As the world struggles to grapple with rapid onset disasters as well as respond to slower degradation caused by climate change, it is critical to ensure that women – from different backgrounds – are able to lead in negotiations and participate in the design and implementation of programs, and that gender issues are firmly on the climate agenda.
Our latest research study explores how women are building resilient cities in the context of climate change and is featured as a chapter in a new UN report.
Event Recap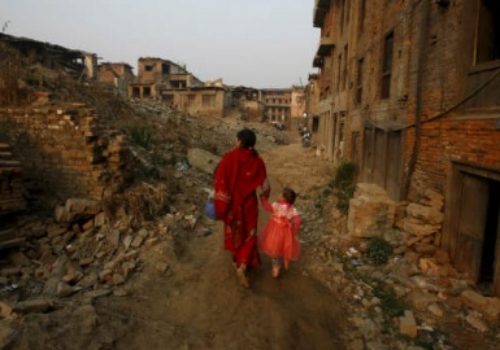 Inclusive Disaster Risk Reduction: Women and Climate Change Adaptation
As extreme weather and natural disasters continue to cause incalculable damage across the world, understanding the role of communities in preparing for and responding to these destructive events is essential. GIWPS hosted Dr. Minerva Pinelo, project director for the Pan American Development Foundation, to discuss building resilience to natural disasters and encouraging preparedness and adaptation.…
Nepali women played a crucial yet underappreciated role in relief efforts following the nation's ten-year civil war and following the earthquake that struck Nepal in 2015, killing 9,000 people. Many women continue to help the country as it moves into long-term recovery processes. This video complements new research from Georgetown's Institute for Women, Peace and Security on women's roles in political transition and disaster recovery in Nepal.