Profiles in Peace
Oral History Project
The Profiles in Peace Oral History Project tells women peacebuilders' stories in their own words, on their own terms.
Oral histories are in-depth interviews that go beyond a soundbite to document women's full and complex stories. While the written record of history often privileges those in power, oral history aims to document more marginalized voices.
Profiles in Peace is a world-leading archive of oral histories - housed at the Georgetown University Library - with women peacebuilders and their allies, from Nobel Peace Prize winners to grassroots activists. These in-depth interviews complement GIWPS' quantitative data and illuminate topics paramount to the Women, Peace and Security agenda. Our project was recently featured in Melinda Gates' blog, Evoke .
Dr. Azar Nafisi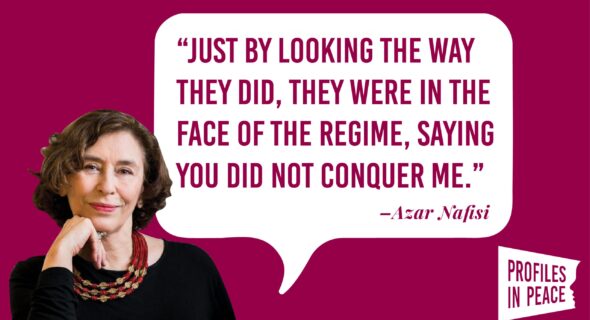 Profiles in Peace
View Azar's full oral history and transcript at the Georgetown University Library. Azar was born in Tehran, Iran in 1948. The daughter of a prominent Iranian mayor and one of the country's first female parliamentarians, Azar was 13 when she was sent to be educated in England, where she later attended university and majored in…
Explore all Profiles in Peace: