Secretary Hillary Clinton urged the global community to hold perpetrators of sexual violence in conflicts accountable and honored Ukrainian women fighting for democracy, defending human rights, and seeking justice for crimes against humanity at the 2022 Hillary Rodham Clinton Awards, hosted annually by the Georgetown Institute for Women, Peace and Security. 
December 6, 2022 – Former Secretary of State Hillary Clinton presented the 2022 Hillary Rodham Clinton Awards at Georgetown University yesterday to five women doing extraordinary work to address sexual violence in conflict zones and encourage women's meaningful participation in recovery and peace processes.
Ukraine's First Lady, Olena Zelenska, was honored for tireless efforts to rally the world to support Ukraine and its struggle for freedom, democracy and its very existence. She was also recognized for her work in support of the wellbeing of Ukraine's children and addressing widespread needs related to mental health, domestic violence, and humanitarian assistance through her foundation and platforms.
"While Russia is launching missiles at Ukrainian citizens there is no peace anywhere." Zelenska said. "I consider this award as another sign of the United States' support for all of Ukraine. Support which every person in our country sees and will remember. By supporting Ukraine today, each of you are supporting peace in the future."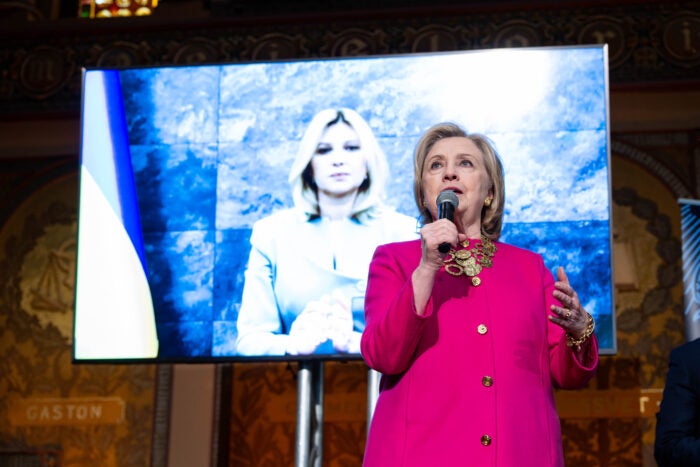 HRH The Countess of Wessex was presented with yesterday's award for her commitment to spotlight the need of survivors in conflict zones and shine a light on ending sexual violence in war. The Countess of Wessex announced her commitment to the Women, Peace and Security Agenda in 2019 and has since visited countries such as the Democratic Republic of the Congo, South Sudan and Kosovo to learn more about the inspiring work being done to end sexual violence in conflict, and encourage support for survivors. Her Royal Highness accepted the award to raise public awareness of this critical issue and the survivors.
The Countess of Wessex said as she accepted the Award yesterday: "Too long have survivors of rape in war had no voice. Too long have they had to bear the burden of others' inactions on these crimes. And too long have the perpetrators not been held to account. Attitudes must be challenged and changed."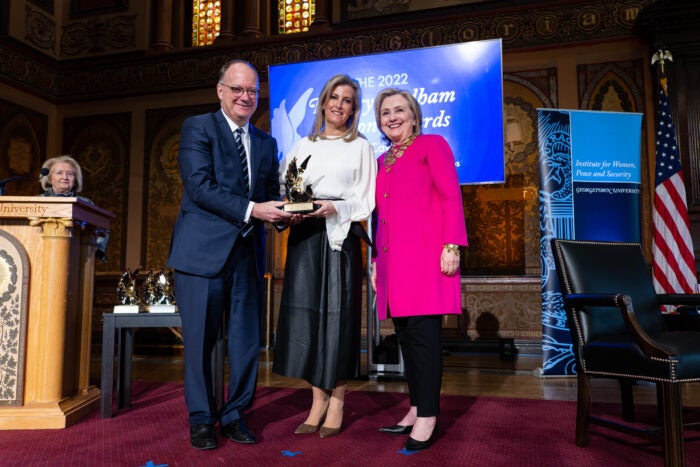 Ukrainian honoree Kateryna Levchenko, Government Commissioner for Gender Equality Policy in Ukraine, said she is fighting to make sure Ukrainian women have a seat at the table in all peace and recovery processes.
"The award gives me the feeling that I have to continue my work to promote women's rights, defend women's rights, and work with my partners from government organizations and the international community," said Levchenko.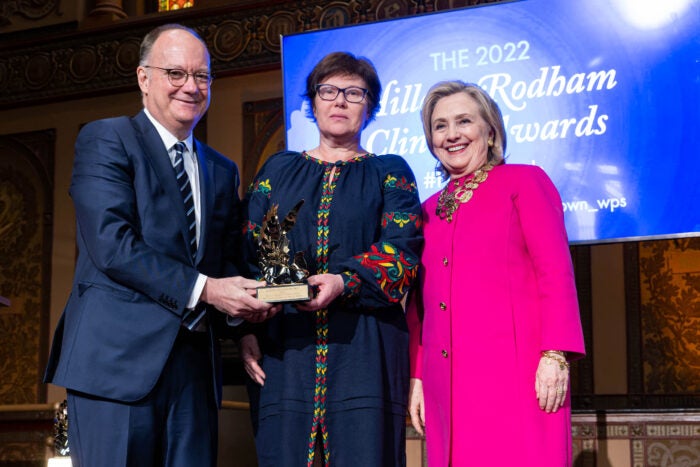 Natalia Karbowska, Director of Strategic Development of the Ukrainian Women's Fund, spoke about the critical role that grassroots women's organizations play and said she was pleased to accept the award in recognition of hundreds and thousands of women activists all over Ukraine.
Oleksandra Matviychuk, a human rights lawyer and recipient of the 2022 Nobel Peace Prize, was honored for her work documenting atrocities and called for justice for survivors.
"Ukrainian women are at the forefront of this battle because bravery has no gender," said Matviychuk, who also vowed that those inflicting pain on the civilian population and all of the Russians who committed crimes will be brought to justice.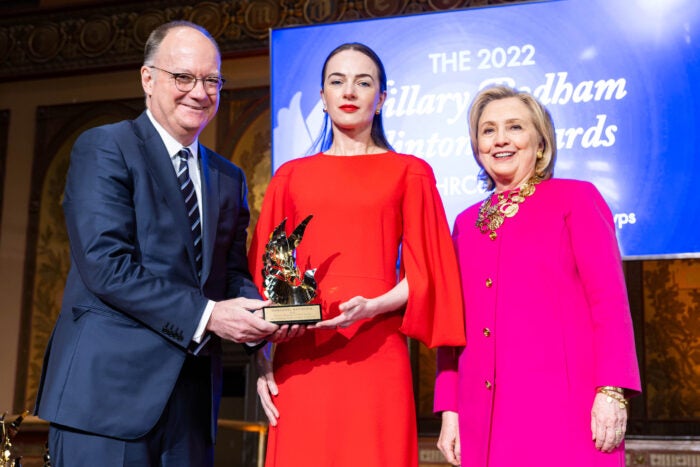 "Amid such abject humanity we see women leading the way forward," Clinton said. "And we've seen women like the ones we are honoring today, keeping women in conflict zones safe and holding perpetrators of gender violence accountable."
Secretary Clinton condemned the alarming rates gender-based violence in Ukraine and recognized President Biden, who has vowed to punish acts of conflict related sexual violence and leverage sanctions to increase accountability for these crimes.
"We must respond to weaponized sexual violence with stringent, severe consequences," Clinton said.
"Those who attack civilian populations using systemic rape are guilty of crimes against humanity and must be held to account."
** About The Georgetown Institute for Women, Peace, and Security (GIWPS)
Georgetown University's Institute for Women, Peace & Security seeks to promote a more stable, peaceful, and just world by focusing on the important role women play in preventing conflict and building peace, growing economies, and addressing global threats like climate change and violent extremism. We engage in rigorous research, host global convenings, advance strategic partnerships, and nurture the next generation of leaders. Housed within the Walsh School of Foreign Service at Georgetown, the Institute is headed by the former U.S. Ambassador for Global Women's Issues, Melanne Verveer. For more information, sign up for our newsletter at giwps.georgetown.edu and follow us on Twitter and Facebook @giwps and Instagram @georgetown_wps.
Media Contact for Georgetown Institute for Women, Peace and Security
Sarah Rutherford: +1 (412) 965 9275 sarah.rutherford@georgetown.edu