This week, global leaders will meet in Paris for the Generation Equality Forum to launch a series of concrete, ambitious and transformative actions to achieve progress towards gender equality. The Forum will address a range of global issues, including women's bodily autonomy, access to technology, and, importantly, the role of youth leadership.
Recently, Georgetown students in the Gender, Peace and Security (GPS) graduate certificate program and GIWPS student research assistants contributed directly to the conversation around Generation Equality via an exclusive discussion with Ms. María Fernanda Espinosa Garcés. Espinosa Garcés, who made history as the first woman to serve as the permanent representative of Ecuador to the United Nations, is a current member of Group of Women Leaders (GWL) for Change and Inclusion. This group of fifty-four women, primarily former heads of United Nations agencies and foreign ministers, are centrally involved in shaping the Generation Equality Forum and global gender policy.
At the recent GIWPS event, Ms. Espinosa Garcés asked Georgetown students: "if you were the penholder of the six transformative action coalitions in the Generation Equality Forum, what would you write?" In other words, what issues in the gender equality agenda do you believe governments, international organizations, civil society, and the private sector should prioritize? Together we identified five key challenges that the rising generation of young leaders are eager to tackle. 
1. Improving Inclusion Mechanisms 
One of the key challenges to the women's rights agenda is the lack of diverse voices in multilateral institutions, such as the United Nations. "Numbers of women at the table are not always sufficient to know whether feminist agendas are actually being advanced," explained Elena Scott-Kakures, a recent graduate of the GPS graduate certificate program. Mariana Vasquez del Mercado, also a member of the 2021 certificate cohort, added that there is a need for a commitment to intersectional and transformative gender equality efforts within organizations. The next generation of leaders will need to affirm that gender equality is not just a numbers game: it is about the quality of rights and ideas. Bringing women from historically underrepresented backgrounds into the decision-making process is one way to ensure the women's rights agenda will serve a broad range of interests.
2. Combating Climate Change
Women are disproportionately impacted by climate shocks, yet they remain underrepresented in climate negotiations, and gender-sensitive climate frameworks are rare. Jennifer Grosman Fernandez, also a 2021 GPS certificate recipient, said the idea that gender is a key factor in understanding climate change "has not been elevated to a high political level," and "very few women are present at climate negotiations." Ms. Espinosa Garcés, who worked on the landmark Paris Agreement, confirmed she was one of only a few women present at negotiations. Going forward, leaders must incorporate gender-sensitive climate frameworks that empower women to drive solutions and elevate the role of women negotiators. 
3. Addressing Political Violence
Political violence is a barrier for many women political candidates running for office. Mariana Vazquez del Mercado noted that political parties "open positions for women, but the path for them to actually assume public office is complex." Relatedly, there is a lack of proper judicial processes that answer to the needs of women who have faced political violence. Ms. Espinosa Garcés, who herself has been a victim of political violence, said she knows first-hand how it hinders women's participation in politics. Leaders must work to strengthen accountability mechanisms at the domestic and international levels in order to facilitate women's participation in politics and protect them from political violence.
4. Engaging Male Allies
Advancing the women's rights agenda requires the participation of male allies. Elizabeth Pantaleon, a student in the Master of Science in Foreign Service program, shared that "in many spaces, talking about gender equality is a female-dominated conversation because [women] do the work to amplify [their] voices, but there is fifty percent of the population that is male and need to be brought into the conversation as allies." Ms. Espinosa Garcés admitted that the balance between amplifying women's voices and encouraging the participation of male allies is difficult. However, the next generation of leaders must find ways to incorporate the participation of male allies while maintaining an emphasis on women's leadership.
5. Mobilizing Youth
Young women are the lifeline of the future of the women's rights agenda. Meg McClure, a student in the Master in Global Human Development program, said that one of the things she hears most frequently, especially from young women, "is this sense of isolation from what is considered the women's movement, which is why I appreciate this experience where [students] can hear from a diverse group of women." Ms. Espinosa Garcés agreed that mobilizing young women is a critical part of advancing the women's rights agenda, which is why GWL convened their series of dialogues with university students. Future leaders will need to find ways to amplify the voices of young women at both the national and international levels to propel the movement forward. 
Taking Student Recommendations to Generation Equality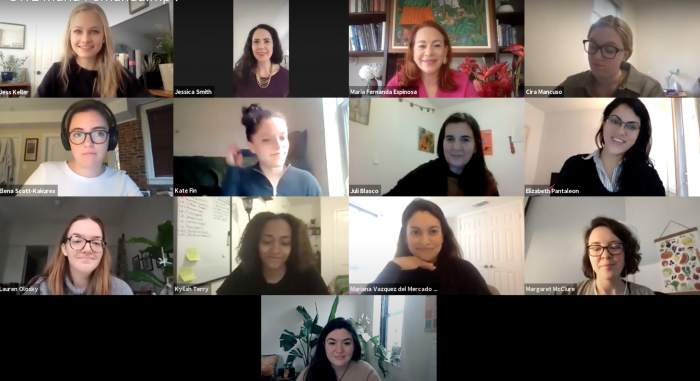 At the end of the conversation, Ms. Espinosa Garcés displayed her notebook on the screen, promising students that what they said would be "heard and articulated." She concluded by telling students that they "should all be sitting at the table at the Generation Equality Forum and writing the new women's rights agenda." Find the latest news and key takeaways from the Forum by following the hashtag #ActForEqual.
Cira Mancuso is a student Research Assistant for the Georgetown Institute for Women, Peace and Security. She is a candidate in the Security Studies Program at Georgetown University, majoring in International Security.