Georgetown Women in International Affairs (GWIA) aims to develop quality leadership among Georgetown graduate students and to increase the visibility of women in international affairs. Through interactive programming, GWIA connects, empowers and prepares emerging leaders. The student-led GWIA Executive Board spearheads the initiative's planning, programming, and communications, working closely with our staff.
GWIA is constantly looking to meet the needs of its graduate students. If you have ideas or suggestions, please feel free to contact the Executive Board at graduategwia@gmail.com or connect with via social media through their Facebook Page and Facebook Group, Instagram, and Twitter.
The GWIA Executive Board develops and implements a variety of programs based on the needs of graduate women seeking careers in international affairs. The Executive Board consists of the following positions: two Co-Presidents, Communications Chair, Community Engagement Chair, and Professional Development Chair.
Click here to subscribe to the GWIA Newsletter.
Co-Presidents
Sophia Farion (She/Her)
Hailing from Philadelphia, Sophia Farion is a first-year student in the Walsh School's Master of Science in Foreign Service program. Sophia is pursuing a concentration in Global Politics and Security and a certificate in Gender, Peace and Security. Through her studies, she aims to examine the intersection between gender and multilateral organizations, specifically how policies crafted by these institutions translate on the ground. Being of Ukrainian heritage, Sophia's regional focus has revolved around Eastern Europe and the post-Soviet space. Before coming to Georgetown, Sophia was awarded a Fulbright grant to teach English at a university in western Ukraine from 2017-2018. She had also spent a summer interning at the State Department's Office of Eastern European Affairs. Sophia received her B.A. in English and Government from the College of William & Mary. During her undergraduate studies she spent two terms at the University of Oxford, Hertford College where she studied English literature and music history. Sophia is excited to continue serving the Georgetown community as an elected MSFS Representative and as one of this year's Co-Presidents of Georgetown Women in International Affairs.
Yuetong Zhao (She/Her)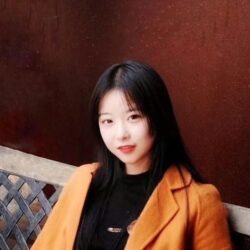 Yuetong Zhao is a first-year M.A. candidate in the Edmund A. Walsh School of Foreign Service where she is pursuing a Master's in Latin American Studies and a Graduate Certificate in International Business Diplomacy. Her concentration is Development & Political Economy. Born and raised in China, she obtained a B.A. in Spanish Language and Literature from Nanjing University with a minor in Portuguese. She also studied abroad in Madrid during her undergraduate study. After graduation, Yuetong worked as a research assistant in Ibero-American Studies Center at Jiangsu Normal University, where she distilled insights from Spanish and English sources to assist the Center's research and help with the upcoming book Ibero-American Studies, and gained knowledge on Sino-Latin American relations. Yuetong also worked as a teaching assistant for the Spanish Department at the same university.
Communications Chair
Anne-Cecilia Byrne (She/Her)
Anne-Cecilia Byrne is a first-year M.A. candidate in Latin American Studies. Her concentration is Governance and Leadership. Within the program, her academic goals are to pursue an understanding of conflict, identity, cultural expressions, collaboration, and structures of peace in Latin America. This includes examining a connection between the violence in Latin America and similar armed conflict in Europe.  
Born and raised in San Francisco, California, she recently graduated from John Carroll University Cum Laude with a B.A. in Political Science with a Concentration in Global Studies and Spanish as well as a Minor in Peace, Justice, and Human Rights. While at John Carroll, Anne-Cecilia studied abroad twice. During her sophomore year, she spent a semester in Madrid, Spain. In her junior year, she studied in Montevideo, Uruguay. Her Spanish language capabilities were utilized within John Carroll's Department of Political Science as a translator in an academic investigation of healthcare in Honduras. In addition, she has worked for the Departments of Political Science, Classical and Modern Languages and Cultures, and Peace, Justice, and Human Rights. In her senior year, she served as an intern in the Cleveland Office of Senator Rob Portman. As an undergraduate student with a double major, she wrote her two senior theses on protest art as a form of resistance against the military dictatorship of Uruguay (1973-1985) in Spanish as well as examining political violence and state formation in the 20th century in Colombia.
Community Engagement Chair
Kai Stuckey (She/Her)
Kai Stuckey is a first-year master's  student in the Edmund A. Walsh School of Foreign Service, concentrating in Global Politics and Security. She is also pursuing a Graduate Certificate in Refugee and Humanitarian Crises. Furthermore, her investigation centers around the ethics underlying western NGOs and their adverse effects on formerly colonized countries. Prior to Georgetown, Kai worked/volunteered abroad in Peru, Spain, Turkey, and Thailand as an English language instructor. In this capacity she analyzed the equitable resources between her students from varying environments and implemented diverse curricula. While abroad, Kai assisted in the official translation and interpretation of Palabras Viajeras, a collection of Central American feminist poetry. During the summer of 2020, the height of the Black Lives Matter campaign, she interned for the National Black Justice Coalition. She was tasked with researching the racial disparities Black children encounter in education, Black women in health, and issues Black LGBTQ+ members face. Her work led to a co-authored article, "The Problem With the 'Police Kill White People Too Narrative" featured in TheGrio. Kai received  Bachelor of Arts degrees in Political Science and Spanish from Howard University and studied abroad in Costa Rica, Spain, and Turkey. Her honors thesis examined the caste system parallels between Turkish Kurds and Black Americans. A Colorado native, she enjoys the mountains, outdoor concerts, and global travel.
Professional Development Chair
Hannah Anderson (She/Her)
Hannah Anderson (she/her) is a first-year student in the Master of Science in Foreign Service program, concentrating in Global Business Finance and Society. She studies the relationship between international trade, economic growth and its distribution, and financial markets. She currently serves as the Senior Editor of the Georgetown Journal of Asian Affairs. Prior to Georgetown, she worked as a Global Market Strategist for an asset management firm, with a particular focus on China's financial system and the interplay between politics and investment decisions. In that role, she advised institutional clients around the world on investment strategy, authored forecasts which underpinned strategic asset allocation processes, and wrote extensively on how developments such as China's ongoing financial liberalization or declining productivity growth will impact asset class returns. She was also a frequent guest on CNBC, Bloomberg, and other financial news outlets and is often quoted in the financial press. Hannah graduated from Brandeis University in 2014 with a bachelor's degree in Economics, International and Global Studies, and East Asian Studies. Originally from Northern Minnesota, Hannah has lived in Shanghai, Boston, New York, Hong Kong, and now, Washington, D.C. She is active in Minnesota politics, an avid reader, hopelessly addicted to the 24-hour news cycle, and a fan of all winter sports (but especially hockey).