When Kabul fell to the Taliban a year ago, the lives of the women human rights defenders were at grave risk. The Georgetown Institute for Women, Peace and Security (GIWPS) and our partners helped evacuate more than a thousand Afghan women leaders and their families who would have been targeted by the Taliban if they stayed.
GIWPS' support for Afghan women leaders did not end on the tarmac when they left Afghanistan. We spent the past year working to ensure the dignified resettlement of these exiled leaders as they make new homes in America. We also provided Afghan women with platforms and connections so that they can effectively advocate for the women and girls who remain behind in Afghanistan.
Although our work is not done, we are pleased to tell you about the impact of our Onward for Afghan Women Initiative this year.
Afghan Students & Fellows at Georgetown University
Georgetown University welcomed courageous and accomplished Afghan women as fellows and students. Their placements represent a critical step in their 'dignified resettlement' while also bringing their unique perspectives and expertise to the Georgetown community. 
Two Afghan women leaders joined the GIWPS team as Distinguished Fellows: Palwasha Hassan, co-founder of the pivotal Afghan Women Network, and Roya Rahmani, Afghanistan's former ambassador to the United States. Fellows conduct innovative research, author op-eds, issue policy recommendations, and advise on our Afghanistan portfolio.
We are also delighted to share that two Afghan women received scholarships to study at Georgetown beginning in August 2022. Salma Alokozai previously worked in the Ministry of Finance where she served as the director general of macroeconomics and fiscal policy. Nasim Azizi worked in the Women's Chamber of Commerce and Industry in Herat, where she oversaw programs related to women's economic empowerment. Both Salma and Nasim will pursue a Master's in Global Human Development. These scholarships were also made possible by donor support.
Our students have benefited immeasurably by being in community with Afghan women leaders and by supporting GIWPS' Afghanistan initiative. "Working on the Onward for Afghan Women initiative as a student coordinator with a fantastic GIWPS team and Afghan women leaders has allowed me to complement my theoretical education with practical experience. I am forever inspired by the resilience and courage of our Afghan women partners and will carry these experiences with me moving forward," said Ana Lejava (MSFS '23).
Creating Advocacy Opportunities for Exiled Afghan Women
Since the fall of 2021, GIWPS has organized 10 high-level convenings to elevate Afghan leaders' voices and their calls to action, and to connect them with prominent policymakers.
From testifying before the United Nations to discussing Afghanistan's path forward with senior U.S. officials, these leaders have made a tangible impact on Afghanistan policy as it relates to humanitarian aid, girls' education, and sources of international leverage on the Taliban.
"It was their voices, their urgency, their passion, which made a difference. That's what we're talking about: when women can get to the table, the difference it will make," said former president of Ireland Mary Robinson after a GIWPS-organized event at the United Nations.
GIWPS has emerged as an essential hub for recommendations by and for Afghan women that U.S. policymakers depend on.The US State Department recently formalized this relationship by announcing the new U.S.-Afghan Consultative Mechanism (USACM), of which GIWPS is a founding partner. The USACM will facilitate regular engagement with the U.S. government on issues ranging from human rights to inclusive economic recovery and political participation, and officially recognizes the value of Afghan women's contributions 
"Time and again, Afghan women have proven essential to peace in Afghanistan," said Allie Smith, Program Director at GIWPS. "Despite challenges, they are courageously leading the fight for what is right, and policymakers around the world have heeded their recommendations. Our team is honored to stand by these exceptional leaders, elevate their calls to action, and support them in achieving lasting impact." 
Hosting Retreat on Resilience, Advocacy
This spring, GIWPS brought 25 of the recently-evacuated Afghan women leaders in our network together in Washington, DC for a unique three-day retreat. This was the first time that the women, who had been resettled across the country from California to Texas to New Jersey, were able to be together in person.
GIWPS organized specialized workshops to help foster their resilience and recovery and further hone their advocacy skills. The retreat culminated in a private session with the U.S. State Department's senior leadership on Afghanistan.
"I feel grateful for having this community around me here, for helping me to recover from the trauma that I experienced," one leader reflected. "Having a community to share, talk, ask for support and for help to continue my work is very important."
This retreat was made possible by Bank of America, which provided significant resources for Afghan women's professional development and dignified resettlement and seconded a staff person to support GIWPS staff with the Onward for Afghan Women portfolio.
Matching Afghan Women with Academic Fellowships
GIWPS has successfully matched 18 exiled Afghan women leaders with fellowships and job opportunities in academic institutions across the U.S.
"Finding a job that…can be impactful for the people of Afghanistan and for the women of Afghanistan, like the job that I have at Princeton, is something that is really giving me a lot of energy to move forward," Naheed Farid said of her role. "This gave me hope."
The GIWPS team led a matchmaking effort to consider each woman's expertise and connect her with universities that expressed interest in hosting Afghan leaders. Placements include Princeton University, George Washington University, University of Texas, University of California, and the College of William and Mary.
Supporting our Afghan Partners in Albania
We brought together over a hundred Georgetown University-affiliated volunteers with Afghan evacuees in our network in Albania and the US for an overwhelmingly positive and mutually beneficial English language learning program.
The GIWPS team led the outreach and matching efforts, while the English Language Center in Georgetown's School of Continuing Studies provided tutoring guidelines and resources for the volunteers. In addition to language skill development and cultural exchange, many tutoring partners became friends and Georgetown colleagues are staying in touch with the Afghan women and their families.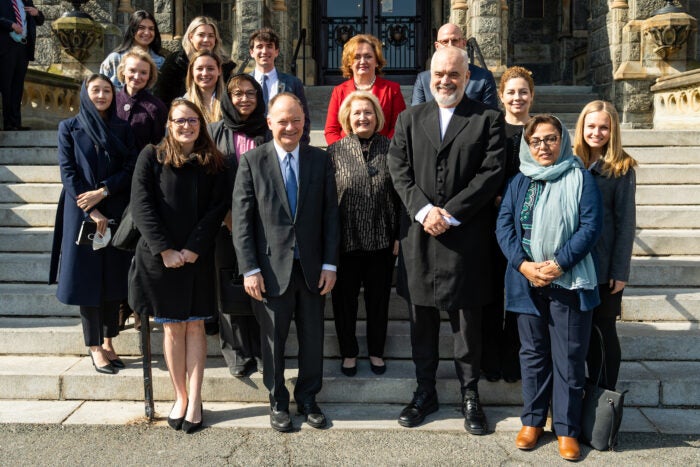 This spring, President of Georgetown University Jack DeGioia received Prime Minister of Albania Edi Rama to thank him for opening his country to Afghan women and girls forced to flee their homes and temporarily hosting them in Albania as they awaited travel to their final destination.
Two members of the GIWPS staff—Allie Smith and Jess Keller—traveled to Albania to meet with Afghan evacuees in our network who were awaiting travel to their final destination. We are pleased to report that almost all of these women and their families have since relocated to Canada for permanent resettlement!