Leader of the Belarusian Democratic Movement – Sviatlana Tsikhanouskaya – Receives International Trailblazer Award from Georgetown University
At the US Ambassador's Residence in Paris, France
PARIS — October 7, 2022 — The leader of Belarus' democratic movement, Sviatlana Tsikhanouskaya,  received the 2022 International Trailblazer Award from Georgetown University's Institute for Women, Peace and Security for her courageous opposition to an authoritarian regime. The award was presented on October 6 at the Residence of the Ambassador of the United States of America to France and Monaco.
When her husband was sentenced to prison for challenging Alexander Lukashenko in presidential elections, Sviatlana vowed to continue the campaign for a democratic future for Belarus. By all accounts, she won the 2020 presidential election, but Lukashenko declared himself the winner and forced her into exile. Massive pro-democracy protests across Belarus followed and were met by a brutal crackdown that included mass arrests, torture, and detentions. Repression under Lukashenko continues.
"I carry the voices of thousands of the Belarusian political prisoners and millions of political hostages," said Sviatlana Tsikhanouskaya. "I carry every voice that has risen against injustice and violence. Every day I'm trying to do my best so that the world can hear these voices from Belarus. And this award is not for me. It's for them".
Earlier this year, Belarus became a staging ground for Putin's unprovoked invasion of Ukraine. Sviatlana Tsikhanouskaya has mobilized an anti-war response and support for Ukraine, while also calling for continued attention and sustained support for the Belarusian democratic forces.  
"We cannot ignore the continuing repression in Belarus and need to unite in solidarity with the democratic forces in Belarus who seek freedom, self determination and rule of law," said Ambassador Melanne Verveer, executive director of the Georgetown Institute for Women, Peace and Security and former US Ambassador for Global Women's Issues.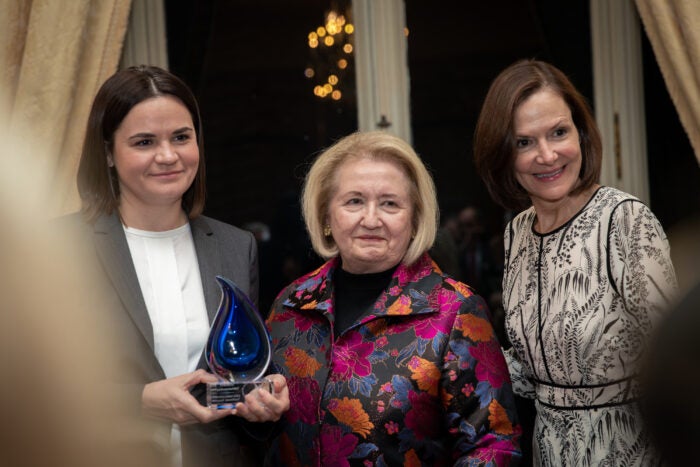 The International Trailblazer Award honors distinguished leaders who are creating a more peaceful and equitable world, often at great personal risk. The award was presented by Ambassador Melanne Verveer along with Shéhérazade Semsar de Boisseson, Inaugural Executive Director, McCourt Institute.
"Over the last two years I had to learn so much to be a politician. But let me tell you something. I think politicians can learn from a mother," said Tsikhanouskaya. "No woman would start this outrageous war, because a woman knows the cost of life. For the same reason, nothing will stop a woman from defeating tyranny."
"We know what we're fighting for. We are not planning to give up. And I am here to remind you about the victims in Belarus and ask you to be consistent in your actions against the dictator: you should not forget what he did. You should not talk to him until the oppression stops and all of the political prisoners are freed with their rights fully restored. Only after this negotiations can start, and the aim of the negotiations is to hold new free and fair elections," adds Tsikhanouskaya.
**
About The Georgetown Institute for Women, Peace, and Security (GIWPS)
Georgetown University's Institute for Women, Peace & Security seeks to promote a more stable, peaceful, and just world by focusing on the important role women play in preventing conflict and building peace, growing economies, and addressing global threats like climate change and violent extremism. We engage in rigorous research, host global convenings, advance strategic partnerships, and nurture the next generation of leaders. Housed within the Walsh School of Foreign Service at Georgetown, the Institute is headed by the former U.S. Ambassador for Global Women's Issues, Melanne Verveer. For more information, sign up for our newsletter at giwps.georgetown.edu and follow us on Twitter and Facebook @giwps and Instagram @georgetown_wps.
Media Contact for Georgetown Institute for Women, Peace and Security
Sarah Rutherford
+1 (412) 965 9275
sarah.rutherford@georgetown.edu
Media contact for Sviatlana Tsikhanouskaya
Anna Krasulina
+370 629 56 788
press@tsikhanouskaya.org