During the last week of March, President Biden co-hosted the second Summit for Democracy with the governments of Costa Rica, the Netherlands, Republic of Korea, and Republic of Zambia to strengthen democratic institutions, tackle corruption, and defend human rights. The White House invited 120 global leaders to participate in summit activities.
In the year-long lead up to the second Summit, the Georgetown Institute for Women, Peace and Security (GIWPS) highlighted and promoted the connection between gender equality and democracy and worked to ensure gender was a key consideration in the 2023 Summit for Democracy.
We cannot overemphasize that threats to women are threats to democracy.
GIWPS formed a Cohort on Gender Equality as a Prerequisite for Democracy with the governments of Sweden and Romania and the NGO International IDEA and crafted concrete recommendations to bolster women's participation in and contribution to democracy based on consultations with 100+ stakeholders across the globe. Our Cohort also produced a Roadmap for Action – a more detailed guide for how to operationalize the recommendations – and five thematic briefs that outline specific steps for integrating gender considerations into democracy work related to youth, media freedom, anti-corruption, free, fair and transparent elections, and information and communication technologies (ICTs).
Together with our colleagues from Sweden, Romania, and International IDEA, we also hosted global convenings to further promote the message that gender equality is a prerequisite for democracy, including a side event at the United Nations' Commission on the Status of Women and a high-level event at Georgetown with the Second Gentleman Douglas Emhoff. The Swedish Ambassador for Gender Equality Sofia Calltorp also elevated the work of the Cohort at a high-level Summit for Democracy Day Zero Side Event on The Status of Women is the Status of Democracy.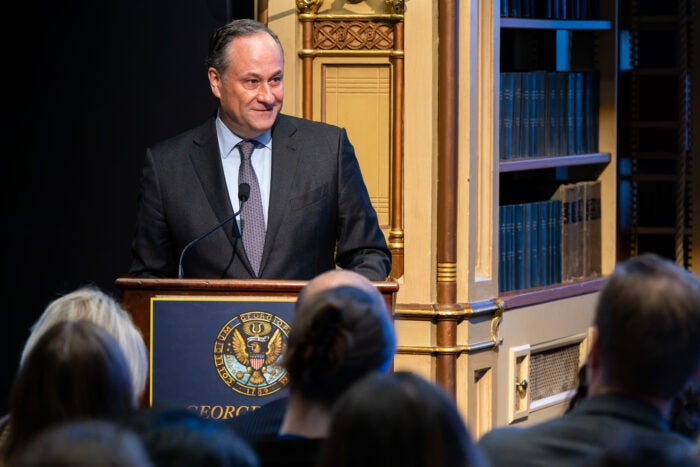 Learn more about GIWPS' work leading up to the Summit, concrete actions to promote gender equality now, and what we're doing next from Executive Director Ambassador Melanne Verveer and GIWPS Research Director Dr. Jessica Smith.
Why is it important to focus on gender equality in democracy-building work?
You can't build strong democracies if you exclude or marginalize half the world's population: women. At the current rate of change, it would take 40 years to achieve women's equal representation in national parliaments. And it may get worse: around the world, we are seeing pushbacks to women's rights and broader democratic backsliding. In fact, antidemocratic forces are rolling back women's rights as a central strategy of their patriarchal-populist agendas.
What's our call to action?
Our Gender Equality cohort issued a Statement of Recommendations outlining concrete actions governments and civil society can take to strengthen democracy by promoting gender equality. The recommendations focus on actions within three pillars: Inclusion, Legislative and Policy Frameworks, and Conflict Prevention, Peace and Security.
Critically, we must address the discriminatory gender norms and practices that continue to limit women's inclusion in public life and leadership – including building the capacity of men and boys to become strategic allies for gender equality. We must also eliminate violence against women in politics and address the proliferation of technology-facilitated gender-based violence and abuse which is being used deliberately to discourage women from participating in public and political life.
Efforts to shift harmful norms must be accompanied by changes in legislative and policy frameworks to create the conditions for women to participate and be represented in democratic processes and institutions. It's time to implement policies and legal reforms that support gender equality – including adopting legal standards on zero tolerance for all forms of gender-based violence.
The participation of women in all aspects of conflict prevention, peace and security processes is also essential to enhance women's safety and strengthen democratic processes and institutions, especially in countries transitioning from conflict. We must work collaboratively to develop strategies and tools to mitigate risks to women politicians, human rights defenders, and civil society leaders.
What do we hope will come from the Summit for Democracy?
We hope the second Summit for Democracy will serve as a call to action to protect and defend democratic values, human rights, and gender equality.
Research shows that democracy has been receding globally for the past 16 years, with the share of countries classified by Freedom House as "free" plummeting from 46 percent in 2005 to 20 percent in 2021. Democratic gains are being wiped out; today, it's estimated that 72% of the world's population live in autocracies. From democratic backsliding in Tunisia, Turkey, Ethiopia, Poland, and Hungary to the rise of far-right coalitions in Israel and Italy, threats to democracy and civil liberties are accelerating.
These rollbacks are taking place amid growing rates of violence against women in politics, including alarming increases in online gender-based violence and harassment targeting women. We cannot overemphasize that threats to women are threats to democracy. Concerted efforts are needed to address the alarming rise we are seeing in violence against women in politics, human rights defenders, and civil society.
Stakeholders working on WPS and democracy efforts must come together to protect women's rights and advance common goals of building just, equitable, and inclusive societies. All of us need to accelerate our efforts on this critical issue as much is at stake for the future of democracies and gender equality around the world.
What does GIWPS plan to do moving forward?
GIWPS will continue our efforts to push back against rollbacks on gender equality, democratic freedoms, and human rights. This week we launched a new research brief which makes an empirical link between the status of women and the status of democracy. This research strengthens the evidence-based case for why protecting and promoting the rights of women must be a central feature of any democracy-building efforts.
This brief is the first in a new GIWPS research portfolio focused on understanding how political violence is being used to target and discourage women from engaging in public and political life and the threats this poses to both WPS and democracy efforts. Our research, coupled with our advocacy efforts aimed at elevating the voices and calls to action from women on the frontlines of these struggles will be a critical feature of the Institute's work in the years to come.