The Trump administration is currently pressing for dramatic cuts to the United States' refugee admissions, possibly curbing the number to zero next year. This potential overhaul of U.S. policy is frequently framed as a social, political, or human rights issue: the economic perspective is often overlooked. New research underscores that refugees could contribute about $3.2 billion to the U.S. GDP  if they had equal access to the employment and were paid the same wage rates as native-born Americans. This would not only benefit the refugees, but all of American society.
Globally, the total number of refugees is currently at a seven-decade peak. Yet when put into perspective, refugees are only 0.3 percent of the world's population, and would fit into a state roughly the size of New York or a country the size of Romania. 
The world's refugees are concentrated in a small number of mostly developing or fragile countries: two thirds of refugees reside in just 10 countries (and the United States is not on that list – by UNHCR estimates, it's number 17 as of 2018). Lebanon, for example, hosts roughly a million refugees who are 16 percent of the total population. In contrast, there are only some 287,000 refugees in the United States or 0.9 percent of the population. For every 1,000 natives in Lebanon, there are about 156 refugees while in the United States, there is barely one refugee for every 1,000 people. Refugee arrival numbers in the United States decreased drastically from 84,989 to 53,691 within just one fiscal year (2016-2017).
In 2017, a draft report by the Department of Health and Human Services found that refugees in the United States brought in $63 billion more in government revenues than they cost over the past decade. The internal study, which was obtained by the New York Times but never publicly released by the Trump Administration, found that refugees "contributed an estimated $269.1 billion in revenues to all levels of government" between 2005 and 2014 through taxes. 
A new report by the International Rescue Committee (IRC) and Georgetown Institute for Women, Peace and Security (GIWPS) addresses another economic question: how could GDP grow if refugee women and men were fully included in the labor market? Broadly following the methodology developed and applied by the McKinsey Global Institute in their influential 2016 Power of Parity report, this study finds that refugees in the U.S. could generate an additional $3.2 billion to GDP if they worked and earned the same income as native men and women.
The report focuses on refugees—defined as people who have been forced to flee their country because of persecution, war or violence—in 6 countries that collectively host 40 percent of the world's refugee population: Turkey, Uganda, Lebanon, Jordan, Germany, and the United States. 
Refugee women, who face additional barriers because of their gender and social status, are a focus of the new study. In the United States, for example, only 40 percent of refugee women are employed, compared to the overall employment rate of 60 percent. They earn $10.8 dollars per hour compared to the native man's hourly wage of $15.2.
What causes these disparities in the U.S.? Refugee women are inhibited by structural and gendered disadvantages. Most refugees arrive speaking limited English, lacking a social network or savings, and daunted by cumbersome administrative processes. Even when the labor market is accessible, it is segregated. Women are concentrated in "feminine" sectors such as health, cleaning, cooking or service industries. Difficulties in recertifying credentials and degrees restrains refugees to lower-paying, lower-skilled jobs. Their resources and assets are underutilized. Women also face the unique challenges of gendered harassment and discrimination, cultural pressures, childcare affordability and domestic responsibilities, inaccessibility to public transportation, and increased vulnerability to violence.
Confronting these barriers and closing the employment and earnings gaps between refugee and host country women could generate up to $1.2 billion. The United States economy would gain over $1.6 billion if refugee women had access to the same employment and earnings rates as native men.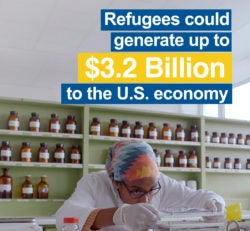 These findings underscore the need for regulatory forms and policy change—informed by data and refugees' perspectives and voices—to realize these gains. Demystifying legal processes can enhance transparency and facilitate refugees' ability to secure employment. Language skills are equally valuable, as are training courses that focus on job searches, resumes, interviews, financial literacy, or business management and entrepreneurship. Some courses foster more industry-specific skills. An example of such a course is the the Pi515 coding program, short for "Pursuit of Innovation," which teaches young refugee students in Iowa computer programming. Moreover, investment in refugee entrepreneurs provides critical start-up capital. And as consumers, we can choose to support refugee-owned microenterprises with our purchases—like Syrian Handmade, jewelry and knitted crafts business run by Eman, a Syrian refugee, and her daughter Ilham, in Atlanta. 
"Women aren't meant to stay alone in the house," says Kholood, a refugee who launched her own handmade clothing business in Jordan. "Everybody has to have something to do, something that can make her feel valuable. Now I feel like there's something I can call my own." 
Refugees are forced to flee from their homes and loved ones despite their preferences not to. The stories of Kholood and Eman, a few among thousands, exemplify the extraordinary talent, skill, and perhaps most important of all, perseverance, that refugees bring to their host countries. The IRC-GIWPS report underscores a strong case for reform. Closing the gap is critical to the realization of the 2030 Sustainable Development Goals—namely, to end poverty, reach gender equality, and achieve a safe and secure working environment for all workers. These ambitions are impossible if we don't unlock the potential of refugee women. If we do so, we can empower refugee women to thrive, not just survive, and also grow our country's economy.
Lauren Olosky is a Research Assistant with the Georgetown Institute for Women, Peace and Security, and a junior in the School of Foreign Service studying International Politics.
Raiyan Kabir is a Bank of America Fellow with the Georgetown Institute for Women, Peace and Security whose research focuses on women's economic empowerment, gender equality, and social inclusion issues.