The United Nations has recognized climate change as having important implications for peace and security, acting as a "threat multiplier" to other drivers of insecurity. In already fragile contexts, the impacts of climate change––including sea level rise, extreme weather events, and prolonged periods of drought––can exacerbate risks that can fuel, prolong, or deepen conflict dynamics. In this year's Global Risks Report, the World Economic Forum cited high risks from rapid urbanization in climate-vulnerable contexts, which "not only concentrates people and property in areas of potential damage and disruption, it also exacerbates those risks—for example by destroying natural sources of resilience such as coastal mangroves and increasing the strain on groundwater reserves."
Evidence and experience tell us that the inclusion of women at all levels of governance is critical for building peace and long-term development. This is especially true in the face of climate change as women play a primary role in natural resource use and management and are often first responders to natural and human-induced disasters. However, the gender-related impacts of climate-related security risks remain all but absent from climate-security debates.
The Georgetown Institute for Women, Peace and Security (GIWPS) is carrying out research to highlight ways women in local governance are contributing to building resilience to climate-fragility risks. While structural inequalities and discriminatory policies continue to exclude women at all levels of governance, there are some promising practices emerging from contexts most vulnerable to climate change impacts in which women have taken the lead to protect their environment and maintain peace in their communities. The inclusion of women at all levels of decision-making is key to achieving the Sustainable Development Goals, especially 2, 5, 13, and 16.
The GIWPS research is grounded in the case of post-conflict Sierra Leone, where the legacy of its 11-year civil war (1991-2002) is strongly felt, particularly among women. Sierra Leone is extremely poor, ranked 184 of 189 total countries in the Human Development Index, and has one of the highest child malnutrition and maternal mortality rates in the world. Sexual and gender-based violence (SGBV)––once used as a tactic of war––remains a pervasive threat across the country. In February of this year, Sierra Leone declared SGBV a national emergency following a brutal rape that killed a 5-year-old girl. In the new 2019 Women, Peace and Security Index, Sierra Leone ranks 153 of 167, with 28 percent of women having experienced intimate partner violence (IPV) in the last year, and over 50 percent of women feeling unsafe in their communities.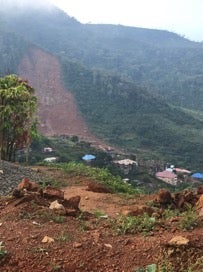 In its fragile recovery, Sierra Leone has experienced several crises that have exposed the government's limited capacity to respond to disasters. Between 2014 and 2016, it was at the center of the world's largest Ebola outbreak, claiming the lives of nearly 4,000 people and stalling––or in some cases entirely reversing––development gains. In 2017, a single landslide killed more than 1,000 people residing in one of Freetown's many settlements. Today, the country continues to experience rapid population growth, urbanization, and increasing rates of environmental degradation.
The impact of climate change will only compound existing risks. Rising temperatures threaten Sierra Leone's primary food sources––rice and fish––while heavier, harsher storms further expose people living in already unstable infrastructure to flooding and landslides. Depleted mangroves and rising sea levels threaten the existence of coastal and island communities, some of which are already sinking.
In Freetown's informal settlements, the risks are especially stark. The Freetown City Council has called the capital city an "environmental timebomb" where "unabated deforestation, coastal and river bed constructions and land reclamation have created a perfect recipe for flooding and landslides."
Women––often responsible for caring for their families and providing water, food and energy for households in Sierra Leone––contribute to and are impacted by climate-related risks in unique ways. For example, in Sierra Leone the production and use of charcoal, primarily a woman's domain, is a primary driver of deforestation, decreasing the absorptive capacity of the soils and creating the conditions for flooding and landslides. At the same time, women are often disproportionately affected by climate-related risks, forced to walk greater distances to collect water or adopt unsafe practices to feed their families during food shortages.
Structural discrimination too often sidelines women from participating in formal and informal governance systems. However, preliminary findings drawn from ongoing field research underscore some promising practices in Freetown, in which inclusive models of governance that engage women through formal representation, civil society networks and development projects are contributing to building resilience to climate-related risks.
In 2018, the citizens of Freetown elected Mayor Yvonne Aki-Sawyerr to serve them, the first woman elected as mayor in more than 40 years. She ran on an environmental platform vowing to transform the city into safe, thriving landscape able to adapt to risks posed by a changing climate. She has adopted a community-based approach that provides space for the participation of women and other marginalized groups from informal settlements to shape city planning and policy.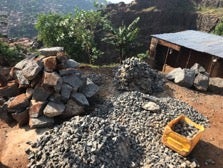 Mayor Aki-Sawyerr started off her term conducting more than 300 consultations with community members to understand how Freetown's residents are experiencing everyday life. Her approach opens doors for input from women-led civil society networks in the informal settlements, such as the Federation of Urban and Rural Poor (FEDURP) – a network of more than 3000 slum dwellers in Freetown. FEDURP holds their own communities, and the government, accountable to addressing climate-fragility risks. NGOs enable two-way communication between government and community-based networks and support capacity building to design and implement inclusive policies that protect residents of informal settlements. 
This research will contribute to a growing evidence base recognizing the important linkages between gender, climate change, peace and security. At the first ever international conference on environmental peacebuilding held in October at University of California, Irvine, "gender" was identified as a core focus area. An in-depth training session led by the UN Joint program on Women, Natural Resources, Climate and Peace unpacked these linkages using practical examples and lessons learned from peacebuilding interventions in North Kordofan, Sudan. The conference also included several panels of researchers and practitioners bringing evidence about the gender-related risks and opportunities associated with climate change to the fore. The environmental peacebuilding conference reaffirmed that addressing climate-security concerns demands an approach to policymaking that is gender-responsive, locally grounded, and embraces complexity.
In this year's open debate at the Security Council on climate-related security risks, Under-Secretary-General for Political and Peacebuilding Affairs urged the Council to recognize that "the risks associated with climate-related disasters do not represent a scenario of some distant future. They are already a reality for millions of people around the globe – and they are not going away."
This is undoubtedly the case in Sierra Leone.  The country has a long road ahead, but Mayor Aki-Sawyerr's approach to governance offers important lessons for bottom-up policymaking, committed to building resilience in the city's most vulnerable neighborhoods.
Molly Kellogg is a Gender, Climate and Security fellow at GIWPS, a position which is generously supported by the Laudato Si' Fund. She is based in Geneva where she also supports the Joint UN Programme on Women, Natural Resources, Climate and Peace.
Lauren Olosky is a Research Assistant with the Georgetown Institute for Women, Peace and Security, and a junior in the School of Foreign Service studying International Politics.