During the week of October 17, GIWPS and the Sasakawa Peace Foundation (SPF) engaged in a series of high-level meetings and programs to advance the UN Security Council's women, peace and security (WPS) framework in Japan. SPF is a leading Japanese foundation committed to enhancing international cooperation. Among its priority areas are human security, the environment and women's empowerment, particularly in peacebuilding and political participation.
Japan will hold the presidency of the G7 next year as well as a non-permanent member seat in the UN Security Council, and will be in a pivotal position to address issues related to comprehensive security, world conflicts such as Russia's aggression in Ukraine, and climate change. The application of a gender lens and women's meaningful participation on these issues will be critical, as will Japan's leadership.
Ambassador Melanne Verveer, on behalf of GIWPS, and the leadership of SPF met with members of the Japanese Diet, the national legislature of Japan. The lawmakers, including vice ministers, discussed the draft of a WPS resolution focused on urgent security challenges, including ongoing conflicts, disaster relief and recovery, Japan's national action plan on WPS, multilateral engagement, the upcoming World Assembly of Women Conference to be held in Tokyo in December, as well as other matters. They also announced a commitment to organize a caucus of parliamentarians focused on advancing Japan's engagement on WPS.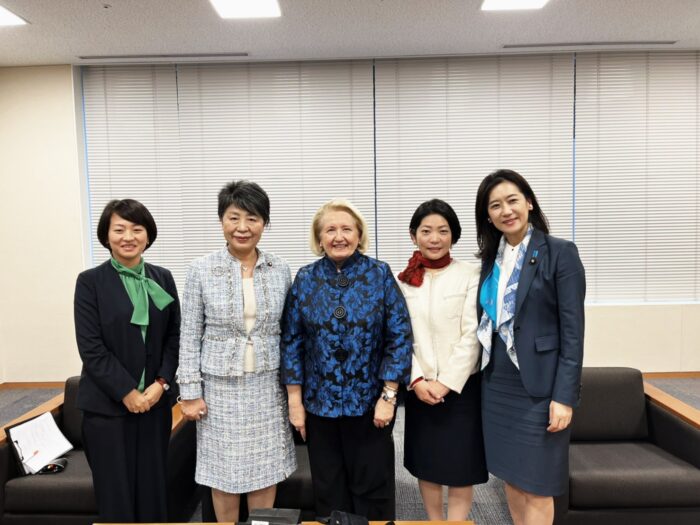 Additionally, the Embassy of the U.S. Tokyo organized a fruitful meeting comprising of Japanese officials representing the Foreign Ministry, Ministry of Defense and Office of Self-Defense with embassy officials and representatives of the SPF. Ambassador Verveer discussed the imperative of the WPS framework and the opportunities for greater cooperation between the U.S, Japan and civil society. Several of the Japanese officials spoke about their programs and policies as well as their commitment to exploring greater opportunities for collaboration. These and many related conversations, both formal and informal, were extremely productive.
During the same week, specifically on October 20, Secretary Hillary Clinton, the honorary founding chair of GIWPS, spoke at SPF before a large audience and echoed many of the same themes. In conversation with the UN Undersecretary and High Representative for Disarmament Affairs, Izumi Nakamitsu, she underscored the vast untapped benefits to be gained in Japan and around the world through the full social, economic and political participation of women and urged more women, particularly younger generations, to be actively engaged on these issues. She also pointed to the opportunity to "come together across national borders, across all divisions among us, to try to imagine, envision and pursue a better world." In discussing women's roles in peace and security, Secretary Clinton warned of the changing nature of warfare, which increasingly targets civilians–primarily women and children–as seen in the horrors being perpetrated in Ukraine. She emphasized the critical role of women in peacebuilding and praised the work of GIWPS.
Masako Mori, a member of the Diet and special advisor to the Prime Minister Kishida, conveyed a message from the Prime Minister pledging to push forward efforts on women's empowerment during Japan's G7 presidency to contribute to the WPS agenda as a non-permanent member of the UN Security Council.
GIWPS is pleased to work closely with the SPF and our Japanese and American partners in making the WPS agenda more impactful in Japan and globally to create a world of greater peace and prosperity.