We asked Georgetown students about faculty members who stood out as allies for diversity and inclusion, whether because of the material on their syllabi or the way they cultivated a welcoming classroom culture. This article highlights standout School of Foreign Service and College faculty members and their inclusive teaching philosophies. Check out their "pro tips" on strategies that all faculty can adopt to advance diversity, equity, and inclusion in the classroom.
Explore our DEI resource portal for guides on diversifying a syllabus, research on how and why to promote diversity and inclusion, tools for university administrators, and more.
Dr. Elizabeth Grimm
Dr. Elizabeth Grimm is an Associate Teaching Professor and the Director of Teaching in the Center for Security Studies. Drawing on her background in the intelligence community, Dr. Grimm views diversity not just as an asset but a prerequisite to success.
Pro Tip: "One of the things that I personally do in my syllabus is to make sure that every single week of reading includes some scholar who is not considered to be the majority representation in our field. Whether that's a person of color, a person from a non-Western background, a female scholar, or a queer scholar. For me there's both an implicit signaling that happens to the students—where students who ascribe to that identity can then look at the syllabus and be inspired and say 'Oh, this is a pathway to me too' —but it also answers questions better. It goes back to that intel training [I received]: if everyone's been socialized into that same community, they're all going to look at those problems in the exact same way."
Father Matthew Carnes, S.J., PhD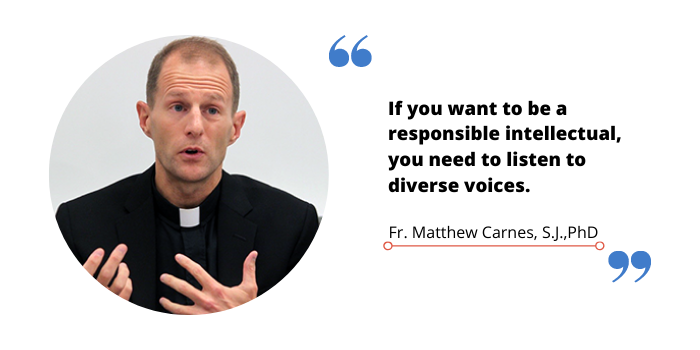 Father Carnes is an associate professor in the Government Department in the College and the SFS, and is the Director of the Center for Latin American Studies (CLAS). When giving hypothetical examples in class, he uses gender-neutral names and varies his use of pronouns in order to combat assumptions.
Pro Tip: "On my lecture slides, I have the practice of posting pictures of the scholars that we're reading. In the past several years, I've sought to make sure that there's never a week where there's not at least one female scholar's picture up there, at least one scholar of color's picture up there. It's easy to do, because much of the very best research in political science is being done by scholars of diverse and underrepresented backgrounds. Having their work on the syllabus and their faces on the slides raises the level of our classroom discussion and reminds us of the diverse intellectual community to which we belong."
Dr. Lahra Smith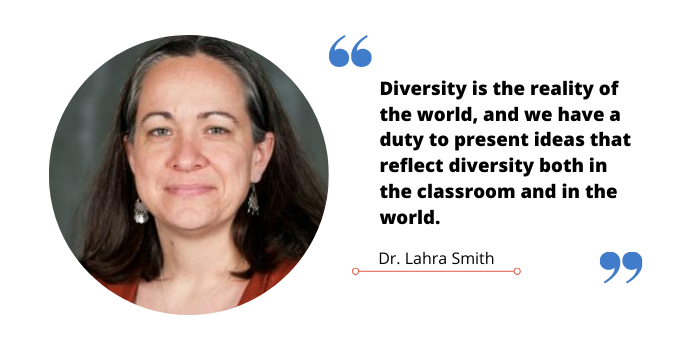 Dr. Smith is an Associate Professor and Director of the African Studies Program. While sometimes fear of mistakes can inhibit challenging conversations around diversity and inclusion, she believes this shouldn't keep professors from expanding their syllabi and discussions to be more inclusive, and reflect more diverse voices and the experiences of diverse students.
Pro Tip: "I also talk more about myself. I think this is maturity as a teacher, you become more comfortable as a teacher talking about yourself in the classroom, your own path as a person, your own path for what you've come to study. I'm also a first-gen student, and in the last couple of years we have a first-gen faculty and staff initiative and I always wear my t-shirt to the first day of classes. I like to reveal myself as a first-generation college grad and start by introducing myself as a human being, as a person, on day one. It always amazes me that this creates a conversation with at least 1 or 2 people."
Dr. Kathleen McNamara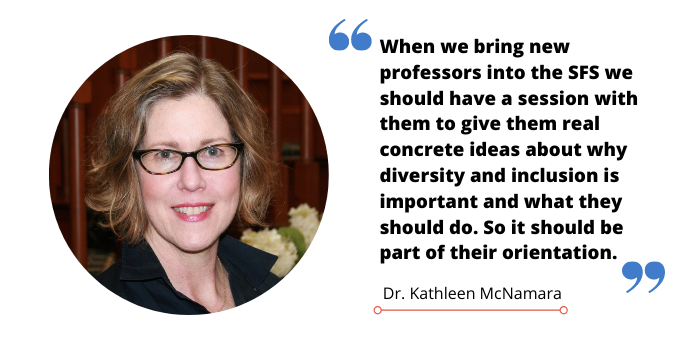 Dr. Kathleen McNamara is a Professor in the Government Department and the SFS at Georgetown. For Dr. McNamara, teaching the canon is necessary for students to understand the basics. But including commentaries from a more diverse group of scholars makes students' understanding of the canon richer.
Pro Tip: "I have found social media to be very helpful, so I wrote on Twitter, 'ok I'm teaching an IR policy class for MAs, what are some good works on race and IR?' and I got a ton of good suggestions." Read more about Dr. McNamara's teaching philosophy in her article, "Reflections from an 'Accidental' Mentor."

Dr. Marwa Daoudy
Dr. Daoudy is an Associate Professor of International Relations and the Seif Ghobash Chair of Arab Studies at the Center for Contemporary Arab Studies in the SFS. To create an inclusive classroom environment and space for dialogue, she encourages quieter students to share their thoughts. She advises students reluctant to speak up to prepare their oral contributions before class if that helps them share their perspectives.
Pro Tip: "There are textbooks, sometimes published in Europe, which are a bit more open to diverse perspectives, so I would suggest that faculty and students use these textbooks."
Dr. Lise Howard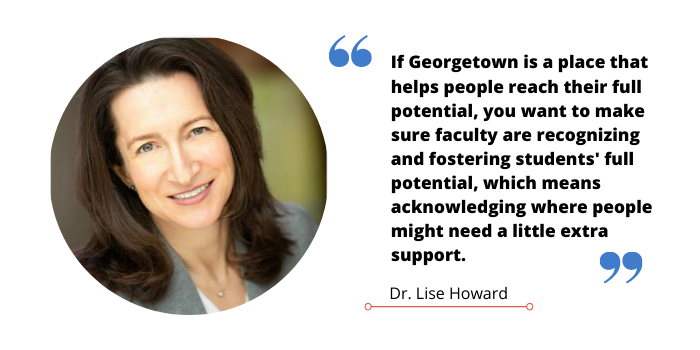 Dr. Howard is a Professor in the Department of Government and serves as the International Relations Field Chair. In her classroom, she sets the tone that all students are included and have a seat at the table. For students who struggle to speak in front of the entire class, she often uses small groups to encourage students to participate.
Pro Tip:  "I realized that it's important to say explicitly that everyone belongs. Especially in Intro IR, in the big 200 student lecture, just to be very clear that our common identity is as members of the Georgetown community, and that we all belong. I think it's important to just say it several times throughout the semester in different ways that we all belong here and are supposed to be here, and that we that have these values as members of the Georgetown community of Georgetown students for each other, of service, of thinking about how to serve others and to care for each other."
Dr. Anna Deeny Morales
Dr. Anna Deeny Morales is an Adjunct Professor at the Center for Latin American Studies. She believes including diverse voices in the course requires students and professors to address more variables and to question information they previously learned. To make all students feel included and to create a sense of community, Dr. Deeny Morales acknowledges that her students all come from different backgrounds and had different experiences on their paths to Georgetown.
Pro Tip: "Right when students get in the class on the first day I actually go up to them and shake their hand. It conveys a deep respect for that individual and whatever effort they went through to get to class, and I say that because you can never make assumptions. And the moment the professor acknowledges them on the first day of class and continues that tone, you are acknowledging the particular infinite diversity of every single human being in your classroom.
In these times of Zoom meetings, to establish the tone of the class, what I try my best to do is greet each student by name and say "Good to see you. Thank you for coming today." Again, it's a very simple acknowledgment of each person's presence and the effort they made to come to that conversation which is your class. I have no idea if these students are caring for loved ones at home, for example, or are themselves going through significant challenges. And just saying those few words, opens the class, opens learning, to that specific diversity they bring to a conversation."
Dr. Lauve H. Steenhuisen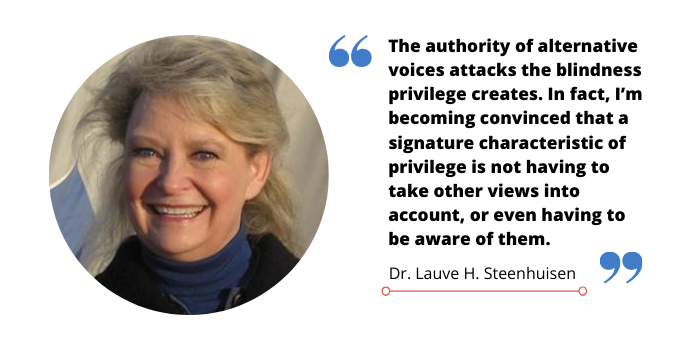 Dr. Steenhuisen has been a Visiting Assistant Professor and Professorial Lecturer in Theology and Women's Studies at Georgetown since 1995. She says it is important to include perspectives that not all students will agree with and that may even elicit an emotional or passionate response from students. This should be a part of the discussion and learning process. To allow students to grapple with this will encourage further learning and the formation of a strong opinion backed by fact and genuine understanding.
Pro Tip: "I believe we have a moral obligation as professors to be radically objective in order for students to discern the moral underpinnings of the values which foundationally ground their belief systems. Often students think they know why they believe in something, but don't really know. So the struggle to self-actualize one's values has worth and value. You can see the impact on students' faces and their tone of voice: they achieve a self-confidence and calmness that is qualitatively different from those who haven't faced opposing values fearlessly – they don't respond from fear."
Dr. Geoffrey Traugh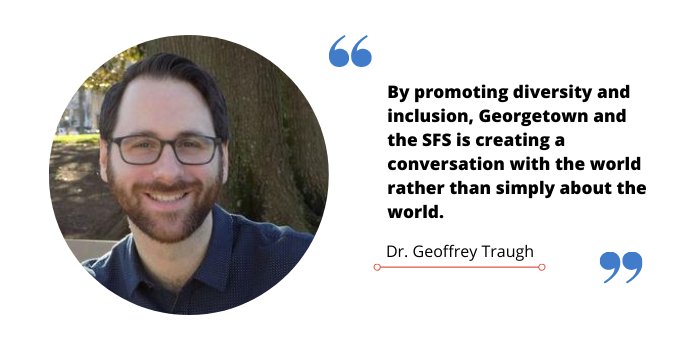 Dr. Geoffrey Traugh is a former Assistant Teaching Professor in the Department of History in the College at Georgetown. He is currently a Collegiate Assistant Professor at the University of Chicago. Through taking advantage of resources such as CNDLS, Professor Traugh designed his courses with inclusive pedagogy. Including a variety of global topics and scholars with different backgrounds allows all students to feel welcome and to share their perspectives.
Pro Tip: "If we want to encourage students to think and act globally, then we, as teachers, should take care to show them what these conversations look like in other places, in other languages, and, if you're a historian like me, in other times as well. We must open up the discussion so it's not simply for learning about the text, but also learning from one another and how diverse perspectives can change the way we approach an idea, issue, or a historical moment."
A big thanks to former GIWPS research assistants Kate Derewicz and Meredith Forsyth for conducting the interviews with the faculty members featured in this post.