We are pleased to announce that 8 Georgetown students, representing myriad graduate programs, earned our Graduate Certificate in Gender, Peace and Security during the 2020-2021 academic year, the inaugural year of our certificate program.
The GPS Certificate provides students with a rigorous academic treatment of critically important but often overlooked issues. The program is directed by Dr. Jessica Smith.
We asked four recipients of the certificate—Aiyanna Maciel, Mariana Vazquez del Mercado Castro, Elena Rose Scott-Kakures, and Jennifer Grosman Fernández—what they learned from the program and how it will influence their career goals. Check out their answers, and their full bios below. 
Q: What topics/questions within the field of women, peace and security interest you most? Why?
Mariana Vazquez del Mercado Castro: The question that interests me the most is how can gender mainstreaming in international development agencies and INGOs be truly transformative? I explored answers to this question through my coursework, including by using a decolonial lens.
Jennifer Grosman Fernández: I'm interested in gender as a cross-cutting issue within international affairs and the interactions between gender and conflict, pandemics, health, tech, and other emerging issues that will impact how the United States advances our foreign policy priorities. Understanding and then advocating for a feminist foreign policy is crucial to addressing the challenges of the coming decades.
Q: What were your favorite Gender, Peace and Security-related courses?
Aiyanna Maciel: The core Gender & Security Toolbox course, because it taught me practical skills in feminist research strategies, program cycles, and policymaking with a gender focus. The graduate certificate also informed my capstone with the Center for Latin American Studies, "Redefining Tweets as Discourse: How El Salvador's 'Cool President' Impacts Cycles of Violence against Women and Girls." 
Elena Rose Scott-Kakures: My favorite course was Gender and Terrorism, taught by Mehreen Farooq, which allowed me to gain experience conducting gender analyses and critically analyzing women's roles as victims and propagators of violence, and as peacebuilders.
Q: What are your goals after graduation? How does the GPS Certificate fit into your plans?
Jennifer Grosman Fernández: I recently accepted a job with the U.S. Department of State related to international climate diplomacy. During my career I hope to advance women's perspective and leadership in addressing the climate crisis. The GPS Certificate afforded me the academic rigor, technical skills, and, most importantly, a community of students and professors that helped me on this journey.
Mariana Vazquez del Mercado Castro: I see myself leading international development programs in Latin America and being an expert and gender equity champion, with the ability to permeate the gender equity agenda through business decisions, operational practices, and program implementation. The GPS certificate gave a structure to my previous knowledge, opened paths for learning and practicing that I had not identified before, and gave me a network of colleagues to share and learn from. 
Aiyanna Maciel: I would love to enter the nonprofit space, preferably working on community engagement initiatives with organizations that serve Latinx populations and the education sector in the DMV. The GPS certificate has helped me learn how to center and mainstream gender into programming, internal organizational frameworks, and research, and I hope to bring both these skills and my background in inclusive pedagogical practices to my future career.
Elena Rose Scott-Kakures: After graduation I will be working with the U.S. Department of State and plan to incorporate a gender-sensitive approach towards programming and policymaking and support gender-transformative efforts where I can.
Q: Is there anything else you want to add?
Mariana Vazquez del Mercado Castro: Thanks to Professors Smith, Lepillez, Koppel, and Kadayifci-Orellana, for changing my life for the better!
Jennifer Grosman Fernández: I was fortunate to co-author the "Climate-Gender-Conflict Nexus: Amplifying Women's Contributions at the Grassroots" report with Dr. Jessica Smith and Lauren Olosky, which broadened my understanding of the gendered impact of climate change.
Aiyanna Maciel: The Certificate has allowed me to combine my passion for human rights, transnational feminism, and practical programmatic approaches to community-based work into an understanding for future change.
Elena Rose Scott-Kakures: I want to thank the GPS Certificate team for their support, and for providing spaces for graduate students to dive deeper into issues related to women, gender, and intersectionality, which is much needed in the fields of foreign affairs and national security. 
Meet the Featured Graduates
Aiyanna Maciel 
Master of Arts in Latin American Studies, School of Foreign Service
Aiyanna has dedicated much of her professional experience to community engagement work with Hispanic and Latinx immigrant communities in the U.S., particularly in Florida. After spending time in the region and studying Spanish, she came to Georgetown to learn about supporting human rights, specifically gender and racial equality, in Latin America.
Mariana Vazquez del Mercado Castro
Master in Policy Management, McCourt School of Public Policy
Previous to enrolling in the certificate program, Mariana was Deputy Chief of Party at the USAID Civil Society Activity in Mexico. She supported 43 organizations to strengthen their gender and inclusion practices, specifically in regard to crime prevention, human rights and rule of law. She is currently a senior consultant at Inclusive Societies, where she develops gender analysis for organizations in Nigeria and Ethiopia.
Elena Rose Scott-Kakures
Master of Science in Foreign Service, School of Foreign Service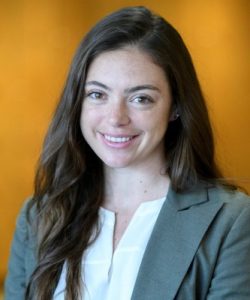 Elena is most interested in issues of gender security, non-state armed groups, and preventing violent extremism in the MENA region. During her time in her Master's program, she interned with the Carnegie Endowment for International Peace, GIWPS, and the U.S. Department of State, all which furthered her understanding of the WPS agenda and gender security.
Jennifer Grosman Fernández 
Master of Science in Foreign Service, School of Foreign Service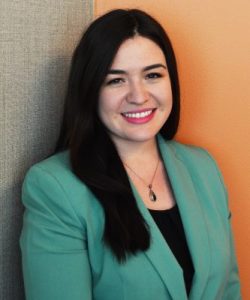 Jennifer's primary interest is in the gendered dimensions of climate change and climate-related conflict. She served as a research assistant with GIWPS, where she helped research and write a report titled "The Climate-Gender-Conflict Nexus,"  In addition to her studies, Jennifer pursued an internship with the UN Framework Convention on Climate Change Secretariat's Gender Team.