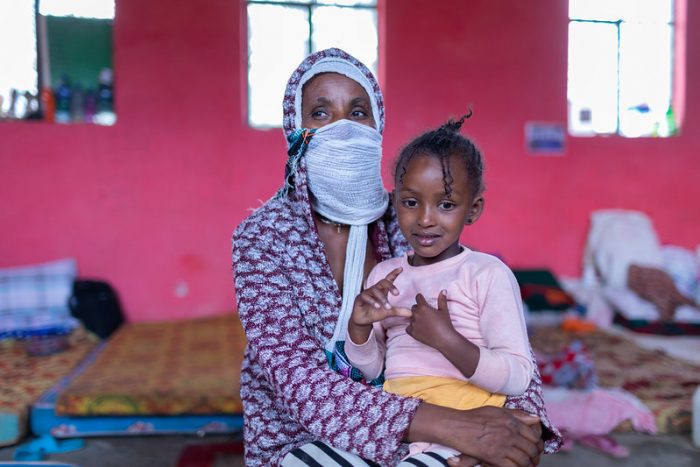 WHAT'S HAPPENING IN TIGRAY
In November 2020, conflict broke out between the Ethiopian federal government and the leadership of Ethiopia's northern Tigray region after years of tension. Eritrean armed forces and Amhara Regional Forces, both with longstanding grievances against Tigrayans, joined to back the Ethiopian government. 
Alarming levels of violence against civilians appear to indicate the operations intend not only to wipe out the Tigrayan government, but also the people of Tigray. Global leaders have called it ethnic cleansing. Human rights violations and atrocities – including mass killings, rapes, lootings and weaponized aid – are rampant. Reports show Eritrean armed forces and Amhara Regional Forces are responsible for the worst abuses, though the UN Human Rights Office has named all actors, including the Ethiopian National Defense Forces, the Tigray People's Liberation Front, and affiliated militia as culprits. Despite Ethiopia's government announcing it had called a unilateral cease-fire in the region, fighting remains rampant.
Sexual violence is being used as a weapon of war against Tigrayan women and children – a grave violation of human rights that traumatizes the survivor, destabilizes entire communities and inflicts harm over generations. 
More than 829 cases of sexual assault have been officially

reported

since the conflict began, and the conservative

estimated

number of survivors of rape in Tigray is 10,000. Nearly a quarter of reports received by one agency involve gang rape with victims as young as eight years old. In May 2021, more than 500 cases of gender-based violence, including rape, were officially reported.

Doctors across Ethiopia and in Sudanese refugee camps have

reported

a surge in demand for emergency contraception and testing for sexually transmitted infections, as many women have contracted sexually transmitted diseases, including HIV.

A

Rapid Gender Analysis

conducted by the International Rescue Committee found evidence of widespread sexual exploitation and a spike in intimate partner violence.
The targeted violence and destruction have resulted in a massive humanitarian crisis with widespread displacement, severe shortages of food, water, and medical supplies. Escalating insecurity, lack of humanitarian access, and communications disruptions continue to worsen conditions.
Women face significant barriers to accessing health, social welfare, and justice services.
Only one facility

provides

the full range of services for clinical management of rape survivors, and only 15 percent of

hospitals

and health centers are fully functioning. 

U.N. officials

estimate

that just 20 percent of the region can be reached by aid groups due to government-imposed restrictions, despite claims that Ethiopia has given "unfettered" access to international aid groups in Tigray.

Due to a

breakdown

in formal and informal accountability systems, there are now fewer social sanctions against men who perpetuate sexual violence. The stigma placed on rape survivors has made it incredibly difficult for women to speak about their trauma and access care, and many women fear repercussions if they report sexual violence.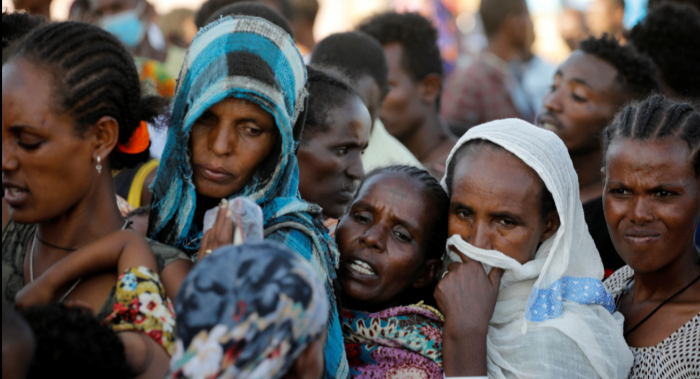 OBLIGATIONS UNDER GLOBAL WOMEN, PEACE AND SECURITY FRAMEWORKS
The human rights violations and atrocities in Tigray necessitate full implementation of obligations under UNSCR 1325 and UNSCR 1820 by the international community and Ethiopian government. 
Sexual and gender-based violence (SGBV) is a peace and security issue. In conflicts and crises around the world – from Yemen to the DRC – women suffer disproportionately and are frequently targeted with sexual violence and exploitation. This violence impacts a community's ability to

heal

from conflict and

undermines

post-conflict stability by fueling displacement and weakening governance. Sexual violence as a weapon of war

reinforces

gender disparities and undermines the social fabrics of society.

U.N. Security Council Resolution (UNSCR) 1325 and many related resolutions call on all parties to the conflict to take special measures to protect women and girls from gender-based violence, in particular rape and all forms of sexual abuse, in situations of armed conflict. UNSCR 1820 condemns the use of sexual violence as a tactic of war and an obstacle to peacebuilding, and

recognizes

that sexual violence used as a weapon of war is a crime against humanity, a war crime, and can constitute genocide.
International humanitarian law (IHL) prohibits wartime rape and sexual violence and affirms the obligation of all conflict parties to protect women and girls.
UNSCR 1325, UNSCR 1820, and UNSCR 2106 call upon states to adhere to the Geneva Conventions and Additional Protocols, which strongly prohibit sexual violence in armed conflicts, and to condemn violence against women and girls as violations of IHL. The conflict in Tigray presents a clear example of the need to align the WPS Agenda and IHL frameworks to enforce accountability and improve women's protection.
INTERNATIONAL RESPONSE
The international community has taken important steps to address the crisis in Tigray: 
The United Nations 
On April 22, the U.N. Security Council issued a press statement expressing "

their deep concern

" for the crisis and calling for investigations, scaled-up humanitarian response and unfettered humanitarian access. It is a welcome development given the U.N. Security Council's prolonged silence from the beginning of the conflict in October 2019, but it falls short of holding specific perpetrators accountable. An official resolution is necessary to meet the scale of the crisis and the U.N. should act with urgency to end the conflict, potentially through peace negotiations.

The U.N. is

allocating

$65 million in aid to Ethiopia, $40 million of which is devoted to emergency needs in Tigray including provisions of essential services, food, and clean water, as well as prevention and response to sexual and gender-based violence.

The United Nations High Commissioner for Human Rights (OHCHR)

announced

a joint investigation with Ethiopia's human rights commission (EHRC) "into human rights violations and abuses allegedly committed by all parties" in Tigray. 
The United States
Despite these important steps, unified Security Council action and full accountability for atrocities, especially related to sexual violence, is sorely lacking. Global leaders are calling for action:
"This crisis demands our attention and our action. It's time for the Security Council to speak with one voice."  —Linda Thomas-Greenfield, U.S. Ambassador to the United Nations
"When history looks back on this painful episode – as part of the long litany of battles fought on the bodies of women and girls, from Bosnia, to Rwanda, Iraq, Syria and elsewhere – we will rightly be asked what we did to honor our commitments." —Pramila Patten, United Nations Special Representative of the Secretary-General on Sexual Violence
"Without prompt, impartial and transparent investigations and holding those responsible accountable, I fear violations will continue to be committed with impunity, and the situation will remain volatile for a long time to come." —Michelle Bachelet, United Nations High Commissioner for Human Rights
"There is no doubt that sexual violence is being used in this conflict as a weapon of war." —Mark Lowcock, United Nations Under-Secretary-General for Humanitarian Affairs and Emergency Relief Coordinator
KEY RECOMMENDATIONS 
Uphold UNSCR 1325 and fulfil international obligations to women and girls. The U.N. Security Council in particular must act urgently to uphold UNSCR 1325, which affirms the crucial role of women in preventing and resolving conflicts and in peacebuilding and the need to fully implement international humanitarian and human-rights law to protect the rights of women and girls during and after conflicts.  
Ensure a full and transparent investigation of abuse, protection, and prevention of gender-based violence. The joint investigation into all human rights violations by the U.N. High Commissioner for Human Rights and the Ethiopian Human Rights Commission is a welcome development, but it must be conducted in a timely manner, and include independent investigations into all conflict-related sexual violence crimes and violations of IHL in Tigray.
Utilize U.N. sanctions regimes to hold perpetrators accountable and address sexual violence perpetrated throughout Tigray. In 2018, GIWPS published an influential report calling on the U.N. Security Council to use sanctions––specifically the designation criteria and the subsequent listing of sanctioned individuals––to prevent and curb sexual violence in armed conflict and address the impunity of perpetrators. 
Allow unhindered and unrestricted humanitarian access to the Tigrayan region to reach the millions of Tigrayans in need of emergency assistance, including survivors of SGBV. 
Scale up resources and humanitarian assistance throughout Tigray, including comprehensive medical and psychosocial care for survivors of sexual violence. Building capacity for service providers, restocking supplies, and expanding safe houses and one-stop centers are critical to reestablishing on-the-ground health systems that support SGBV survivors.
Consider donor funding and support for SGBV as "life-saving" assistance. In many crisis settings, prevention and response programming for SGBV are not recognized as life-saving interventions. USAID and U.N. agencies must prioritize SGBV funding in Tigray, as well as invest in long-term funding mechanisms for a specialized SGBV response across the humanitarian sector.
Invest in grassroots efforts and work with local women's organizations that have the unique ability to reach and empower women and girls within their own communities through flexible and rapid funding mechanisms like the Women's Peace and Humanitarian Fund.
Advocate for a collective effort and sustained financial and political support from the entire international community to fully address the conflict. Advocacy efforts matter to ensure a united voice calling for action at all levels.
HOW TO SUPPORT
Support organizations that are providing healthcare, psychological care, essential resources, and monetary support for Tigrayan refugees, internally displaced peoples (IDPs), and other vulnerable populations throughout Ethiopia:
The International Rescue Committee

is providing essential care and services to people who have been displaced from the Tigray region. IRC is scaling-up its protection services with USAID/BHA support, including by

establishing

SGBV referral pathways and disseminating information on sexual exploitation and available protection services.

Doctors Without Borders/Médecins Sans Frontières

(MSF) is supporting health centers with essential supplies and medical assistance, running mobile clinics, and providing displaced people with water and sanitation and relief items, such as cooking and hygiene kits.

CARE

is working on the ground in the Tigray Region, Amhara and Afar, on gender-based violence response and advancing women's empowerment strategies for Emergency Unit programming. The recent

Rapid Gender Analysis

draws from key informant interviews in the region to understand the specific challenges women and girls are facing, including gender-based violence, lack of access to shelter, food and healthcare, disproportionate unpaid care work, and physical and psychological trauma. 
Reach out to other NGOs focused on SGBV and ask them to bring the plight of the women in Tigray to greater attention. 
Use social media and other platforms to give voice to the untenable situation developing in Tigray and spotlight the disproportionate impact on women and girls. Omna Tigray, an advocacy organization founded in response to the humanitarian crisis in Tigray, provides infographic slide-decks, resources, and social media campaigns to support.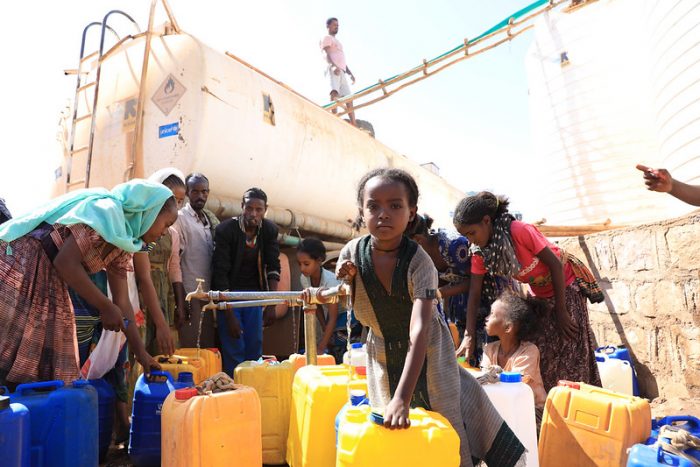 FURTHER RESOURCES AND COMMENTARY
RELATED GIWPS CONTENT ON TIGRAY
Georgetown alumna Bserat Ghebremicael (B'17) shares her perspective as a Tigrayan woman and describes her advocacy work with the nonprofit organization Omna Tigray.
Watch the recording of our conversation with leading policymakers and voices from Tigray about what can be done to counter the human rights violations and atrocities committed against women and girls.
Note: this page was last updated on June 25, 2021.