During this unprecedented year, our mission at the Georgetown Institute for Women, Peace and Security was more important than ever: promote a better world by focusing on women's role in building peace, growing economies, and addressing global threats—including COVID-19.
We have much to be grateful for this year, despite the challenging circumstances. We invite you to look back with us on some of GIWPS's defining moments of 2020.
SURMOUNTING THE IMPACT OF COVID-19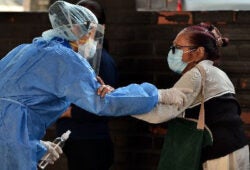 Beginning in April, we were one of the first research centers to document the disproportionate impacts of COVID-19 on women and show how it exposed pre-existing gender inequalities through original research, virtual programs, and storytelling initiatives. Don't miss our conversation with women peacebuilders from Myanmar, Ukraine, Syria, and the Democratic Republic of the Congo who provided a lifeline to their communities during the first wave of the pandemic.
CELEBRATING THE 4th UN WORLD CONFERENCE ON WOMEN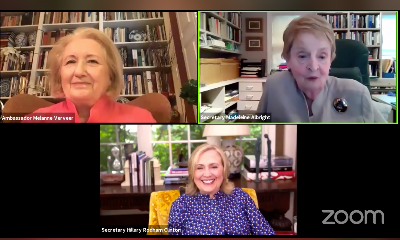 25 years ago, government and civil society leaders cemented women's rights as human rights into international law. To mark the historic occasion we undertook a major study that documents how far we've come on women's rights, and what it will take to accelerate progress over the coming decades. Hillary Clinton, Madeleine Albright, and 200,000+ virtual participants joined us to launch the report and reflect on a watershed moment for women's rights.
PUBLISHING THE FIRST-EVER UNITED STATES WOMEN, PEACE AND SECURITY INDEX

We published 20 original research reports this year, including a report on women building climate-resilient cities and a big-picture analysis of gender provisions in peace agreements between 1990-2019. Last October—in a first for GIWPS—we decided to look inward at the United States and launch our first major WPS analysis of domestic issues. The United States WPS Index documents the influence of geography, race, and socioeconomic status on American women's wellbeing. The report underscores major disparities in maternal mortality, political representation, and economic opportunities, among other indicators. Take a look at our feature story in National Geographic Magazine to find your state's ranking.
HONORING DIVERSITY, EQUITY, AND INCLUSION
Under the leadership of GIWPS Fellow Carla Koppell, we created a resource hub as part of our efforts to promote diversity, equity and inclusion in international affairs. In a year that called on all of us to support racial justice, we asked Georgetown professors to share their tips on how to be an ally, compiled research on cultivating DEI in the classroom, and invited you to submit recommendations for IR scholarship written by scholars from underrepresented communities.

CONVENING GLOBAL LEADERS IN SUPPORT OF AFGHAN WOMEN'S RIGHTS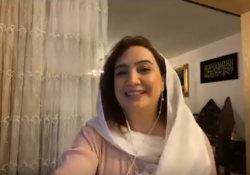 Peace talks between the Afghan government and the Taliban officially began in October of 2020, opening the possibility for ending decades of violence through a political settlement. Together with former Secretary of State Madeleine Albright, we coordinated a campaign to call for an inclusive peace process in Afghanistan and the preservation of the gains that Afghan women have made over the last two decades. Learn more about our commitment to Afghanistan across the Institute's research, programming, and communications efforts.
TELLING THE STORIES OF EVERYDAY HEROES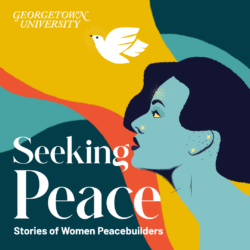 During this deeply difficult time, we were inspired by the resilience of women peacebuilders and male allies. We shared their stories through a second season of our Seeking Peace podcast featuring heroes like Nobel Laureate Nadia Murad, world-renowned doctor Denis Mukwege, and grassroots activist Muqadasa Ahmadzai.
Thank you to everyone who joined in our efforts in 2020. If you've enjoyed our research, programs, teaching, or podcast this year, we hope you'll consider making a gift to support our work in the coming year.